October 12, 2022 By College Ave Student Loans
A Beginner's Guide to Parent PLUS Loans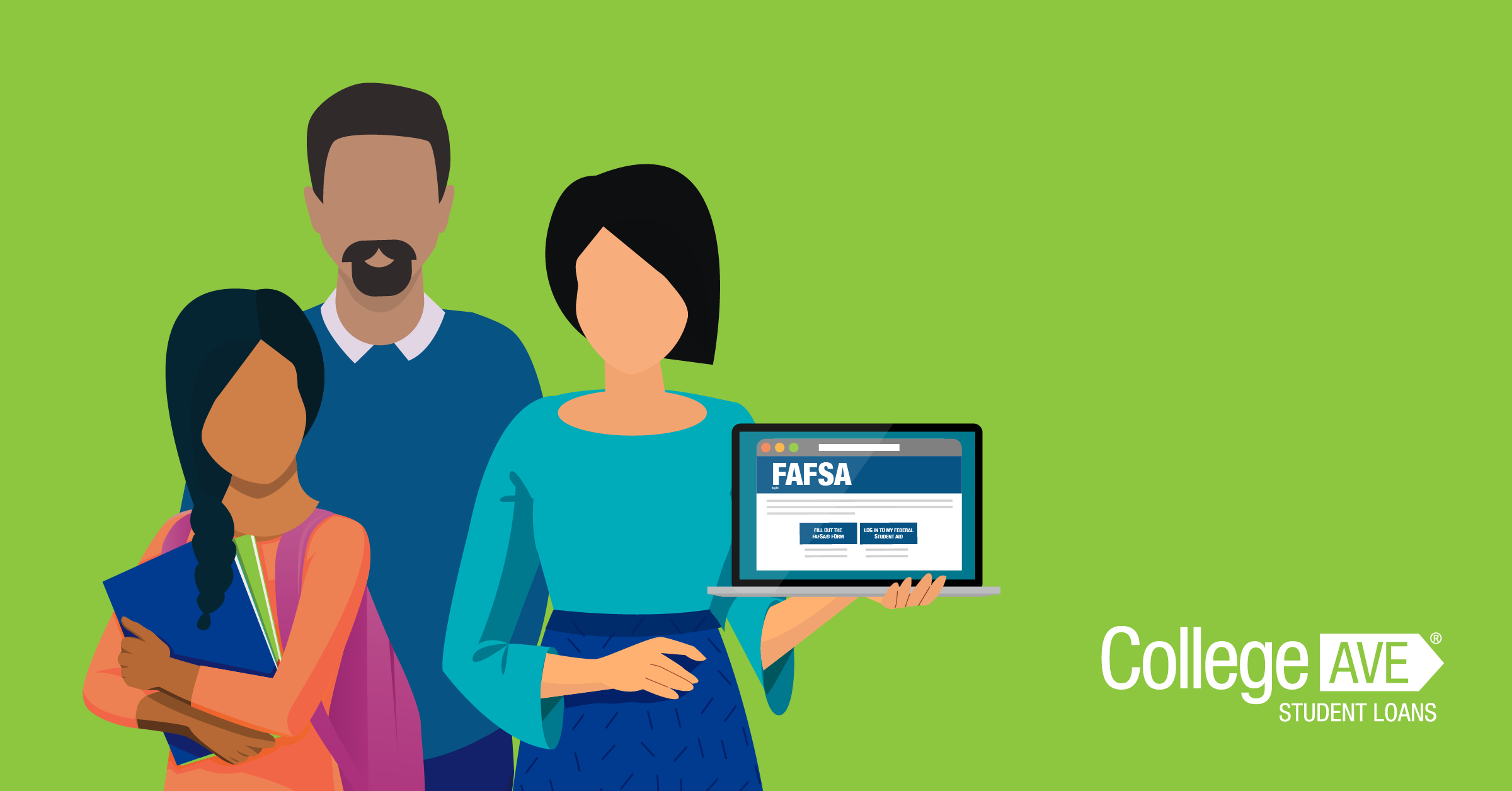 Paying for a college education can be expensive.
With tuition, books, housing, and more, student loans are one way families can pay for college. But what happens when you reach the Federal Direct Loan limits and your family still needs more money to pay for school?
One option is a Parent PLUS loan. We'll break down all the basics of Parent PLUS Loans: what they are, how to apply, the pros and cons, and how to get started.
The Basics of Parent PLUS Loans
A Parent PLUS loan is a federal student loan taken out by the parent of a college student to help pay for school. The Parent PLUS loan is part of the federal student loan program. These are not co-signed loans; they are loans taken out solely in the parent's name and it is the parent's responsibility to fully repay them.
Am I Eligible for a Parent PLUS Loan?
A Parent PLUS Loan must be taken out by the parents of the student. To qualify as a "parent," they must be the biological parent of the student or the adoptive parent. Grandparents and legal guardians aren't eligible to take out Parent PLUS Loans, even if they have had primary responsibility for raising the student or are the current guardian.
Parents will also need to meet modest credit requirements that check for any adverse credit history. An adverse credit history includes certain accounts that are late or delinquent on your credit report. It can also include having any Title IV debt (debt from a previous federal education loan) within the past five years subjected to default determination, bankruptcy discharge, foreclosure, repossession, tax lien, wage garnishment, or write-off. The application and credit check will determine if a parent is eligible to take out a Parent PLUS loan. Both parents can apply separately though, and students can still benefit if only one parent qualifies for the loan.
To be eligible for a Parent PLUS Loan, the student who the loan is supporting will also need to meet the general student loan eligibility requirements. They'll need to show that their student is enrolled in an eligible school at least half-time and is a US citizen or eligible noncitizen. If you meet all three of these criteria, you are eligible to apply for a Parent Plus Loan.
How Do I Apply for a Parent PLUS Loan?
To apply for a Parent PLUS loan, the first step is to fill out the Free Application for Federal Student Aid (more commonly referred to as the FAFSA®). Once you've filled out the FAFSA, the next step is to fill out the Direct PLUS loan application. Both of these applications can be accessed online through the Federal Student Aid website.
What's the Interest Rate of Parent PLUS Loans?
A Parent PLUS loan has a fixed interest rate for the duration of the loan term. The fixed interest rate can change each year. Direct PLUS Loans from July 1, 2022 to July 1, 2023 have an interest rate of 7.54%.
What Are the Pros and Cons of Parent PLUS Loans?
The Pros:
The Fixed Interest Rate. Some student loans (and many other types of loans) follow the market interest rates and are subject to change. But a Parent PLUS loan will have a fixed interest rate for the entire duration of the loan. You won't have to worry about rising interest rates–even when interest rates increase–because they will always be fixed for your loan.
You Can Cover the Cost of Attendance. Federal Direct Loans limit how much a student can take out each year, while Parent PLUS Loans give parents the flexibility to borrow up to the cost of attendance minus any financial aid received, as determined by the student's school.
There are Several Repayment Options. In general, parents are eligible for the following repayment plans:

Standard repayment plans: Pay fixed monthly payments for 10 years
Graduated repayment plan: Start with small payments that gradually increase over 10 years until it's paid off
Extended repayment plan: Pay fixed or graduated payments over 25 years
The Cons:
There's an Origination Fee. All Federal Parent PLUS Loans have an origination fee that you need to pay when the loan is taken out. The current origination fee is 4.228%. If you borrowed $20,000, you would pay about $845 in fees when you borrow.
There's a Required Credit Check. You do have to pass a credit check to make sure you don't have an adverse credit history. If you do, you will need to apply with an eligible endorser who will co-sign with you.
Repayment Starts Immediately. While most student loans have the option to defer payments until the student graduates, Parent PLUS Loans require repayment immediately. Repayment starts immediately because the loan is repaid by the parents who aren't in school. But you could be eligible for a loan deferment that will delay repayments while your child is in school and for six months after they graduate.
Federal Parent PLUS Loan Alternatives
Federal Parent PLUS Loans are just one option to cover college costs. While it can be extremely advantageous to be able to withdraw money for your child, Federal Parent PLUS Loans don't offer much flexibility. So if you're not sure if a federal PLUS is right for you, these are some of the alternatives:
Private Parent Loans: The federal government isn't the only place to get a parent loan for college. Private lenders can offer many benefits that can make a parent loan appealing. At College Ave, our Parent Loans have the option of fixed or variable interest rates, so you can choose what works best for you and your student. We also provide flexible repayment options that make a private parent loan an appealing option for paying for school. And most lenders don't have an origination fee.
Co-Signing a Student Loan: Parents don't necessarily have to take out the loan by themselves. Parents can also cosign on a student loan to help their students pay for school, but both the student and parent are equally responsible for repaying the loan. Some private lenders may offer a cosigner release option after a certain criteria are met. Check before taking out a student loan if this option is important to you.
Choosing a Private Parent Loan
If you're looking for a private parent loan, College Ave is here to help. We offer flexible private parent loans that will give you a flexible way to pay for college. These are some of the key features of our parent loans:
Choose What Kind of Interest Rate You Want. A fixed-rate loan can help you avoid rising rates or having changes in your payment amounts. If you want a varying interest rate, we also offer that for our parent loans.
Choose a Flexible Repayment Plan. We give you the choice of how many years it will take you to pay back the loan. We offer flexible plans that will work with your situation to help you find a monthly payment that fits your budget.
We Guide You Through the Loan Process. Instead of just loaning you money, we'll also walk you through the process and help you figure out your repayment plan. From our parent loan calculator to pre-qualification tools, we have you covered the whole way.
There's No Origination Fee. You can apply for a private parent loan through College Ave without having to pay an origination fee.
Overall, Parent PLUS Loans are loans that parents take to pay for college costs.
The loans are taken out in the parents' names, and they are solely responsible for repayment. These loans can help your student attend college without the burden of financial stress. At College Ave, we're here to help you understand all kinds of education loans for parents and students alike. Ready to learn more and get started with a private parent loan? Apply today with College Ave.
Sign Up for the Latest College Ave News
By providing your email address, you agree to our Privacy Policy, and you give College Ave Student Loans permission to contact you. College Ave respects your inbox and will only send periodic emails.